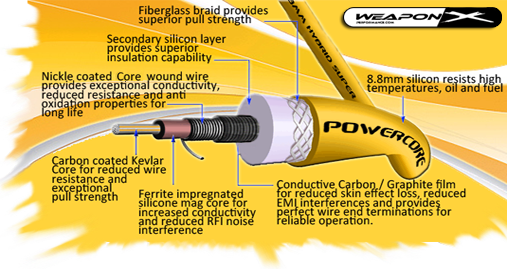 Mission Ignition Systems WeaponX lineup is synonymous for providing outstanding performance and our ignition wire is no exception. Developed to provide the highest performance wire available, with a lifetime warranty, no other wire can compete, or your money back.
Available in custom lengths (please call for information), our WeaponX PowerCORE 8.8mm Hybrid Super Conductor provides exceptional high voltage protection for high output ignition coils and includes a host of next generation features.
Internally what can be found is our low resistance hybrid wound nickel plated copper wire core which offers ideal resistance's for maximum voltage and current to the spark plug while providing a long / reliable life span. The WeaponX PowerCORE Hybrid Super Conductor is designed to have the lowest resistance values when coupled with our low resistance spark plugs to be 50ohm. This allows for the lowest resistance values and outstanding EMI / RFI performance.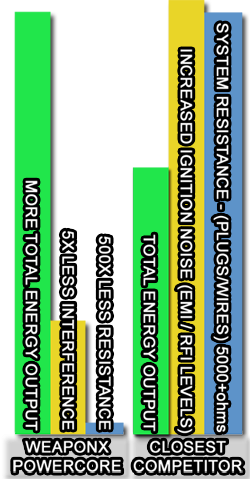 PowerCORE wire also includes a wire graphite film around the CORE which reduces skin effect losses by as much as 6x associated with other similar designs that comes in contact with the silicon layer. This graphite layer has superconducting capability at room temperature but also further helps protect against oxidation, corrosion at the terminal connection, protects the wire against heat and offers outstanding EMI and RFI performance over standard wire.
A conductive ferrite impregnated silicon mag core as well as a carbon nano tube impregnated carbon kevlar core also aid in reducing skin effect losses, increases the ignition wires pull strength and successfully acts as a ferrite bead internal to the ignition wire.
PowerCORE also laps our primary and secondary silicon layers which allows us to double the insulation capability of the wire and increases wire strength.
PowerCORE is a complete balanced package that takes all ignition performance criteria into consideration for reduced wire resistance, increased performance over the life of the wire, balanced RFI / EMI performance, exceptional strength, insulation and resistance to harsh operating environments. Because of this we are so confident that we offer a lifetime warranty for our PowerCORE ignition wire.
FEATURES AND BENEFITS
- WeaponX CORE design for higher voltages and current to the spark gap
-oxidation prevention at the wire terminals allowing for long life and high performance years after installation even in harsh environmental conditions
- exceptional RFI / EMI control
- increased engine horsepower
- increased engine torque
- increased engine fuel mileage
- superconducting materials used
- create longer, more powerful output spark events
- lifetime warranty
LEARN MORE OR PURCHASE BY CLICKING THE IMAGE OR LINK BELOW

Learn more about PowerCORE Ignition Wire